About the Greeting Cards:
The pictures on these cards, created by young artists, were the winning entries in a contest that was initiated by Suzzy Czarnecki and world-renowned marine artist, Wyland. The purpose of the contest was to raise money for an orphanage in Lira, Northern Uganda. Lira was decimated in 2004, when it was attacked by the LRA, a terrorist group, which mass-murdered adults and abducted young boys into their army. Children of the Nations (COTN), an organization committed to helping orphans and refugee children around the globe, has adopted 59 of these children, and has built a beautiful village where they can live and thrive. COTN is providing them an education and teaching them skills, along with presenting the gospel to them. In 2009, Suzzy and her husband went to Lira, as part of one of the first teams to build housing in what is now "Children's Village". Currently, there are the 59 orphans living there, and 190 children attending the school, built with donations given to Children of the Nations. Your support, when buying our greeting cards, goes directly into the education and health of the children. Thank you for your support!
All sets have 16 cards and are $12.50 plus $3.75 for shipping and handling.

Variety Pack
One of each card. 16 cards total.
---
"Hope" Created by Siera Franco, 6th grade
"This painting is my reflection of an Almond Blossom. The reason I chose an Almond Blossom is because it is the flower of HOPE . Hope will blossom and when it does it is such a beautiful thing. Hope is beautiful against the dark. This painting is to say in dark, sadness, hopelessness, and in sorrow, there is always hope, and it will always get better."
---
"An Elk in the Forest" Created By Matea Pankey, Grade: 4th
"I drew an Elk because it goes perfect with the theme of nature. Drawing animals is my passion! The way I draw their body parts, facial expressions is what I do, and if there was no drawing I just wouldn't be me!"
---
" Parrot in Paradise" Created by Janelle Hernandez Grade: 12
"I chose this subject of artwork to draw because the Macaw is so free and strong yet is so extraordinary and care free! They are usually found within the tropical jungles which, in my opinion, are where a great deal of true beauty is found. The Macaw is a very majestic animal. When I see them in pictures they remind me of how beautiful nature is and why it exists."
---
"Purple Flower" Created By Katriana Beard - Age 11
"I painted a flower because I love flowers. I also painted a flower because I love walking through my grandma's flower garden."
---
"The Beautiful Flower" Created By Bethany Whidden, 1st Grade
I saw some beautiful flowers; I wanted to add more colors.
---
"The House Finch" created by Rachel Widden, 5th grade
A male and female house finch was making a nest on the corner of the roof on the back porch. The Mama bird laid four little blue eggs. I sketched them and finally painted a picture of them."
---
"African Man" Created By Jayden Washabaugh - 6th grade
"I got this painting from God. It's a picture of an African man being taken to
heaven by angels."
---
"Flight of Life" Created By Willow Washabaugh - 4th grade
God gave me the idea for this picture. This is a picture of a trumpet swan bursting out of the water which represents life flying towards Heaven.
---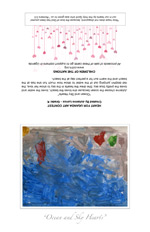 "Ocean and Sky Hearts" Created By Julianne Lenox - Grade: K
Julianne choose the ocean because she loves the beach, loves the water and loves the pretty blue sky. She drew the hearts in the sky to show
her love, the red dolphin jumping out of the water to show how much fun she has at the beach and the warm sun for a perfect day at the beach.
---
"The Frog" Created By Quinn Stalcup - Grade: 4th
"Living in Big Bear Lake we are surrounded by nature so it was difficult to choose what to paint. I decided to paint an abstract frog. Why I choose the frog was because it reminds me of the creek in my backyard. In the spring, the snow melts and the creek fills with water and the green, brown and yellow frogs leap in and out of my creek."
---
"The Hippo in Africa" Created By Sydney Shelton - Grade K
"My Gramma Lainee went to Africa to dig water well for kids who don't have clean water to drink; when she came back I saw her pictures of Hippos from the safari she was on. I love Africa and sell lemonade to make water well money."
---
"The Ocean of the Sea" Created By Hannah Lindsey - Grade: K
"I wanted to paint the ocean because I like the colorful fish. Fish are pretty and colorful and some have blue sparkles on them."
---
"The Swans" Created By Jessee Stalcup - Grade: Pre K
I painted the swans because they are really pretty. I like the color blue so I made the water blue. My friend Cindy helped me with one beak.
---
"The Walk" Created By Cindy Ojeda - 5th grade
"I was inspired to paint an elephant for this contest because elephants are my favorite wild animal. I hope one day I will travel to Africa to see the elephants in their natural habitat. I love spending my time outdoors in nature because it relaxes me. When I am older I want to help save the elephants from becoming extinct and stop poachers."
---
"Under the Sea" Created By Bethany Long - 5th grade
Sometimes people dream about being under the sea. Sometimes people don't even think of going to the beach, going swimming in the ocean, or even going scuba diving. Seeing a kid's artwork with all their hard work and beautiful bright colors are almost better than going to the water. When I get to go where I see art, it feels like I'm in the art myself.
---
Proceeds will go to Children's Village, Lira, Uganda
http://www.cotni.org/